Whatever we do, we always keep our customers in mind.
We ensure that every feature that we create, helps you deliver more and deliver better to your customers. We've been working in full swing to implement a lot of new features and product enhancements to make your customer support faster, smoother, and simpler. However, we understand, for businesses that have just started off, there's much to do, in terms of handling budgets and operations. Cost-cutting can be quite a challenge for such small and medium-sized enterprises (SMEs).
How nice would it be to have a helpdesk with all the essential support features to help you scale business as you grow?
Good news: Our Silver plan is now free of charge for up to five users, making this a great choice for small and growing businesses.
We think you shouldn't worry about adopting a customer support software. Your focus should only remain on delivering brilliant customer experience. And we're thrilled to be helping you do that.
What's there to offer?
You get to access the most popular features of ThinkOwl. Isn't that great?
Here's what you can achieve:
Automate mundane tasks
In need of doing major tasks and aligning your efforts to your business interests, you may often miss out on the minor allied ones.
For instance, while working on a critical customer case, you might forget to pose a follow-up email to another customer.
ThinkOwl's automation take care of many such situations, ensuring that nothing is lost out by users. These workflows are as easy as ABC to design and streamline your business processes.
Intelligent workflows include:
So, you get to automate routine tasks, trigger activities and provide great support to your customers easily.
Monitor important metrics
You could be delivering your "best" to the customers, but your version of best and their expectations of best may not align. Which could be a stumbling block in retaining your customers. To work out this muddle, ThinkOwl's advanced analytics and reporting tool can be beneficial to boost customer experience.
The free plan gives you the ability to use multiple gadgets in one customizable dashboard with case handling Key performance metrics(KPIs).
These metrics help you to gauge case productivity and take corrective measures in case of deviations. All of this then takes your business to better customer satisfaction (CSAT).
Share Knowledge with customers
Time is money, be it for your customers or your business. It's important to cash as much time as you can to create time utility for your customers. Similarly,it's also necessary to deliver the right information to your customers on time. ThinkOwl lets you create articles and article links that then serve as knowledge material for users during case handling.
You can create help articles, web links, or FAQ to help customers with the right answers. This saves time and money for both you and your customers.
Here are the key characteristics of the new Silver plan: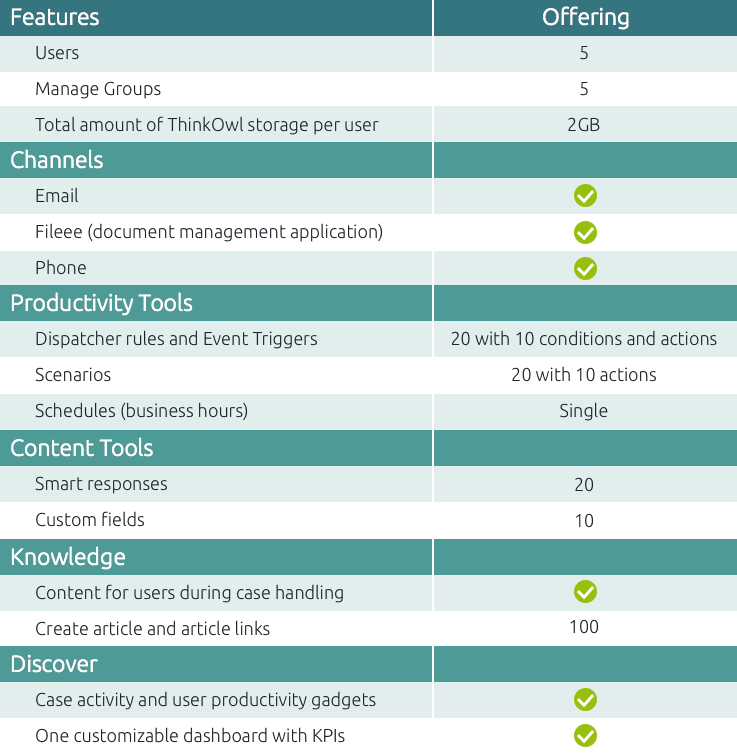 Existing customers using the free trial version of ThinkOwl can continue to use it or jump to the new Free plan or the most popular - Diamond plan. To lock in any of these changes, read our article on managing subscriptions in your ThinkOwl account.
With all these features at hand, you save on time, costs and resources. And see an improvement in quality and the consistency of business interactions.
The best part is that you don't have to pay a penny for it.
Isn't it the right time to try ThinkOwl? Head over to the pricing comparison page on our website to see what each plan offers in terms of specific features.