ThinkOwl vs. Outlook, what's better? This is a question many of our customers ask us.
The answer to this question is the most important disclosure into all ThinkOwl does as a part of email management.
So in this blog, I'm going to help you decide what you should consider for your business. Read on.
When it comes to email service providers, Microsoft Outlook is probably the most popular today. It is highly recommended for both personal and business use.
But at the same time, it's no longer sufficient to use Outlook as the centralized system for all customer communications. It uses independent silos like knowledge management and customer database management. And complex functionalities for simple tasks like: scheduling emails, no intelligent responses for quick replies, and so on, add to these silos.
This does not seem to be the smart way to create a good customer experience.
Thus, those who want to raise their customer service to the next level should get rid of legacy tools and look for professional alternatives to Outlook.
Digital sovereignty (control of one's digital content or infrastructures) also has top priority in customer service.
Support operations like,
distributing emails automatically,
placing essential data into input fields in applications
triggering follow-up, processes with the aid of artificial intelligence (AI), and thereby upgrading the work of customer service teams
− all this is not rocket science but the new reality when you deliver customer service with an intelligent software like ThinkOwl.
An all-in-one customer service platform
ThinkOwl is an end-to-end omnichannel customer service software developed by ITyX Solutions, pioneers in AI platforms. It is created with the fundamental desire to make customer service a smooth and straightforward experience. All necessary features for customer interaction have been thought through and developed in a user-friendly manner. ThinkOwl integrates all communication channels in a single inbox which makes it an omnichannel software. Such features minimize communication gaps and places ThinkOwl at the front among its counterparts.
The teamwork factor
All customer service platforms juggle with questions like:
Who should process the mail?
How do we manage the processing of emails?
Is the workload fairly distributed?
All these questions are put to rest as your teams can work together in ThinkOwl. One not only has access to access to a shared inbox - as is also possible with Outlook - but one can review customer communications status in no time.
Built-in AI
AI is crucial for modern software it should not only support customer service agents but also largely automate routine work. This does not mean getting rid of support staff. It means that a combination of human and machine makes customer service more efficient and productive. Every incoming email has to be viewed and manually distributed in Outlook while in ThinkOwl emails are sorted by AI according to topic, complexity, and urgency and automatically assigned to the responsible expert. ThinkOwl, thus, has an answer for every concern about organizing a customer service platform in the most optimal way.
Intelligent and individual workflows
A customer service platform like ThinkOwl supports intelligent workflows that automatically trigger tasks. Without programming, customer service managers define important steps and (distribution) rules for their service processes and determine which events should trigger them.
With all these key benefits intact, ThinkOwl is ready to revolutionize how customer service works for those who choose it.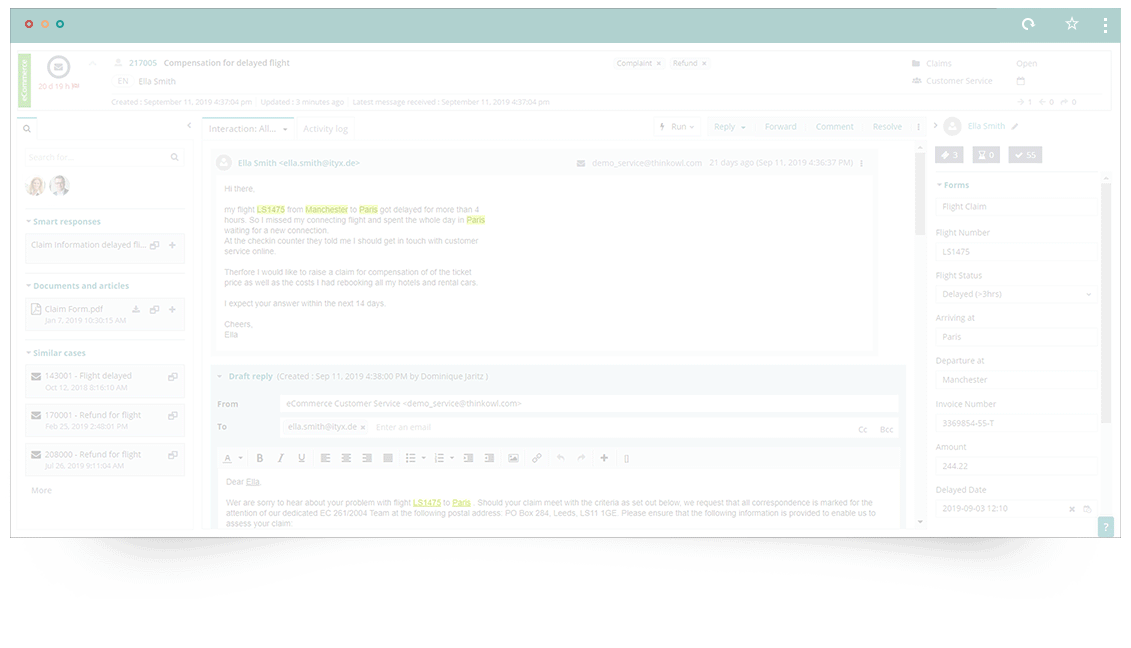 Take the decisive step towards digital sovereignty and discover the alternative to Outlook – you'll notice the difference in just a few weeks.
Go ahead for a free trial here.