How do you make your business stand out? Simple- by enhancing your business processes.
On a typical work day, your team may have hundreds of workflows, which, when automated, can improve turnaround time, increase agent productivity, and guarantee a better ROI.
With this in mind, we've rolled out a few key features to ease your job. Our journey over the last few months has been both exciting and educational. We made some product changes too. The latest version of ThinkOwl is as flexible as it is robust. From the revamped user interface to the clear new theme, the all-new ThinkOwl is built to offer a brilliant customer experience.
Take a look at the latest additions that set you on the path to success — with your customers and agents alike.
Intelligent Guide for Real-Time Routing
The Guided Mode in ThinkOwl identifies all the critical tickets and simplifies agent workflows by pulling out the most important tickets to them, one by one. Thus, they automatically get access to tickets without refreshing their inbox now and then.
Only automating ticket assignments to agents doesn't streamline your support processes. That's why, as an addition to Guided Mode, ThinkOwl introduces the Intelligent Guide. It ensures that agents can focus on customer requests that need their attention the most. It automatically optimizes workload balancing. At the same time, it provides supervisors a way to override the order in which agents handle cases, through a convenient guide console. Supervisors define conditions for the critical tickets based on their priority, considering factors such as SLA, agent availability, expertise or escalation level. Intelligent Guide supports agents and supervisors alike so that supervisors get to have an overview of the process, while the agents resolve tickets promptly.
Want to know more about how you can set up your Intelligent Guide? Read more.
AI Wizard for Case Categorization
Performing repetitive manual tasks isn't the most effective use of your time. Categorizing cases on the basis of incoming customer messages is one of them. ThinkOwl provides one-click alternatives for such dull tasks at your support desk. So, you focus more on resolving cases and let AI do the rest. ThinkOwl now comes with the AI wizard, an intelligent feature that learns from user decisions. The wizard recognizes your case handling needs in advance to automate repetitive processes. This not only saves your time but costs and efforts too.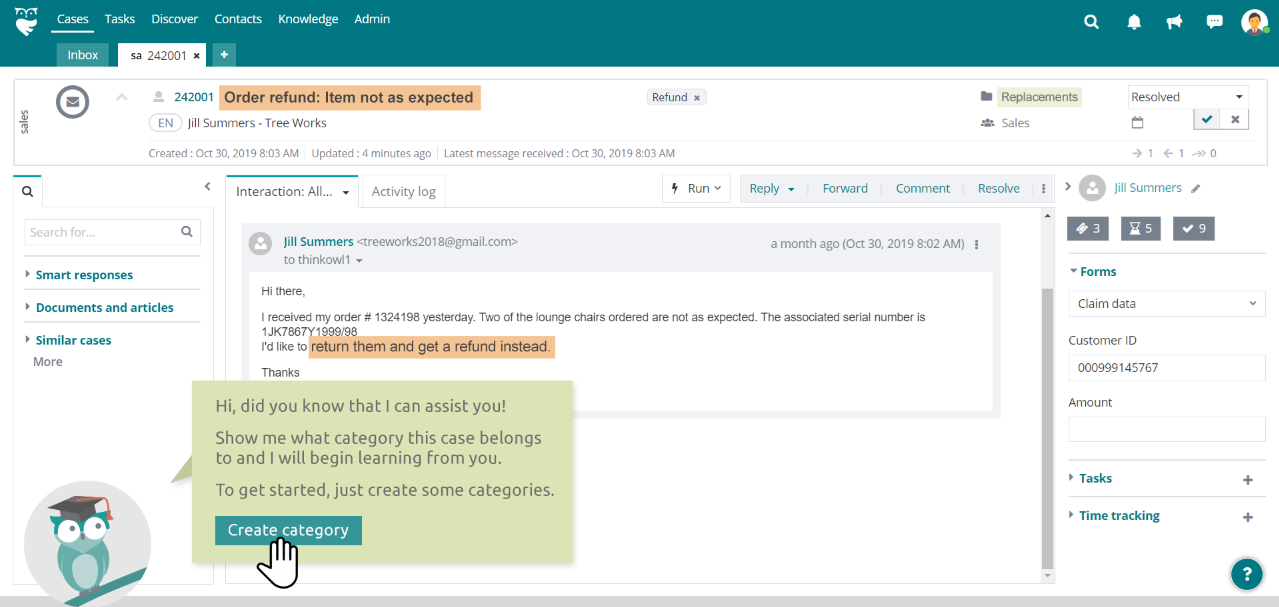 Here, it is essential to know that the wizard is only a depiction of ThinkOwl's AI capabilities. Once you are on board, it demonstrates how the system self learns on real-time data. After your successful onboarding, the wizard flies off. But remember, the system still keeps on learning from the incoming customer cases. You will soon notice that ThinkOwl first identifies the context of customer messages. Then automatically begins to assign the required content data to the right input fields.
Here's how.
As shown, the system may sometimes take suggestions from you, as a part of the training.
Event Broker for Enterprise Integrations
Data security places high demands on modern cloud operations. While the new GDPR norms have raised all bars of cloud security, it has also made your data more vulnerable to security threats.
ThinkOwl provides a new exclusive feature for these concerns — the Event Broker. It enables communication via secure cloud operations, while the data is stored on the company premises.
It's ideal for customers who want to integrate third-party applications with ThinkOwl. So, you can now view and interact with other applications (within the ThinkOwl user interface) at selected, predefined locations.
In short: communication in the cloud - data in the security zone.
Read more to know how you can integrate ThinkOwl with your existing systems.
Help Panel for Interactive User Assistance
ThinkOwl offers a help panel for its users to get quick help within the product. It offers help-center articles, interactive help, and access to ThinkOwl support portal.
You can read support articles from "suggested articles" to get the know-how to use the product. Or, use interactive help to get a quick overview of product features. Here's the best part; this help is 'context-relevant.' So, while working on a particular section in the product, you'll get an instant help based on the section only.
Let's say, if you are working in the "Inbox," you get help prompts specifically related to the Inbox. And when you shift to "Admin" you get relevant suggestions for admin.
No other help desk software in the market offers such case-sensitive help to its users.
Also, the support portal is always up to date. So you can trust that you get the right information in real-time. That's how ThinkOwl helps you, and you help your customers.
All these features are built to supercharge your productivity so that you do what you do the best — support customers. Additional functions such as chatbot and customer portal are also accessible to you now. You'll know more about these in the upcoming blogs. Stay tuned.