Key points:
Repetitive tasks and dull work environments lead to high attrition rates at the workplace.
Workplace trends worldwide are shifting towards providing better user experience and gamification market is growing rapidly.
Gamifying the workplace helps boost productivity, increase employee engagement, keep users and much more.
Particularly, for support businesses with service agents handling many requests daily, gamifying the helpdesk reaps big wins.
All work, no play. Boring. What if running your business were as easy as playing a game?
Workplaces should include a little fun and not be all about work. Repetitive, mundane tasks decrease employee morale and increase employee attrition rates. That's why workplace trends are changing towards creating better experiences for their service staff and the idea of gamifying service processes has become popular. The gamification market had a global value worth $6.8 billion in 2018 and is projected to register an impressive growth of 32% over the next five years, reaching $40 billion by 2024.
Gamifying service desks becomes even more important for support businesses, where service agents solve countless service requests on a typical day. How about gamifying parts of support processes to keep things fun? Gamifying the service desk helps agents do the same support tasks in more interesting ways.
Wait, what is gamification?
Gamification means integrating fun and engaging elements found in games in everyday tasks. This can make otherwise mundane activities more interesting. Applying the game approach to the workplace increases interaction between team members and raises user retention and employee engagement.
If you are in the support business, think of gamification as the play mode for core tasks assigned to the agents. Gamification is intriguing because it promises the users make cumbersome or dull work fun. By gamifying crucial agent-agent interactions you achieve better sales and deeper loyalty.
What are the elements of Gamification?
There are many elements to Gamification called the game mechanics.These are rules and procedures that guide the player and response to player's actions. The dynamics or emergent behaviors of the game-play are a sense of accomplishment and competitiveness.
Levels, missions and badges show short-term or long-term accomplishments. And periodically unlocking different levels means long-term, sustained achievement for the user. You can keep a count of players' actions or overall ranking of users through points and leaderboards. Are you a player who's always up for new challenges while you're working? Event feeds help you find upcoming challenges. Notifications build up your morale to go for these challenges instantly. Gamification promotes learning by playing. Quizzes help your team learn. Users build basic skills and memory muscle by taking these quizzes. You can also take up quizzes to develop advanced knowledge about untouched skills. All these elements help enhance user behaviors for the better.
When we map the game mechanics to the emergent user behaviors, here's where we see improvement.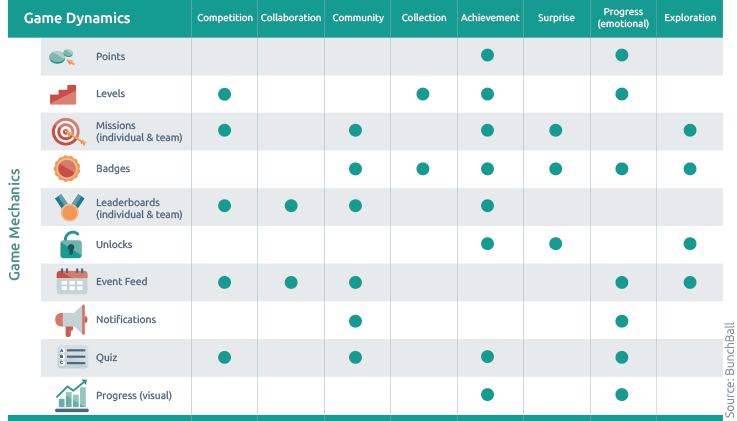 All game mechanics have the same goal of enhancing the user experience, only the form is different.
Why you should gamify your helpdesk?
Five reasons why you should love gamification as much as users love to play:
Increases agents' engagement
Gamification can make certain tasks fun that otherwise may seem difficult, boring and tedious. Gamification uses goals, achievements and a rewards system, which encourages employee motivation and, thus, improves the productivity of the whole company. Applying gamified techniques feeds into the agent's sense of growth and accomplishment. This self-fulfillment motivates agents intrinsically, and they acquire greater commitment to the company's goal.
Cut down on time and boost agent productivity
Gamifying your helpdesk is a great way to remind agents about unaccomplished tasks. It also gives them a way to gauge themselves where they stand on the metrics that matter to the company and to customers. Individual and team profiles show progress in real-time. Progress bars turn out to be effective here. You can show the challenges an agent has yet to complete and achievements to reach. This strategy instigates a desire to complete what is still not done. Failing to complete the tasks creates pressure to perform better, so agents are more likely to retain the tasks in their memory until completed. Deloitte says gamified training programs took 50% less time to complete and massively improved long-term engagement.
Reward accomplishments and retain users
Everyone loves rewards. Creating a sense of achievement is important. However, going one step further by offering a real reward like badge and points is something your employees will love.
Employees invest time and effort to do their tasks on time. They deserve to be rewarded for their work. It's human nature that motivation increases when we know we will get something in return for our time and hard work. Businesses love gamification because it is such a great solution to one of their most painful challenges — employee retention.
Applying gamifying to your helpdesk makes user experience more enjoyable. When users like what they're doing, they automatically get engaged in it and promote the product. This helps create brand awareness. According to a survey by TalentLMS, here's what employees answer: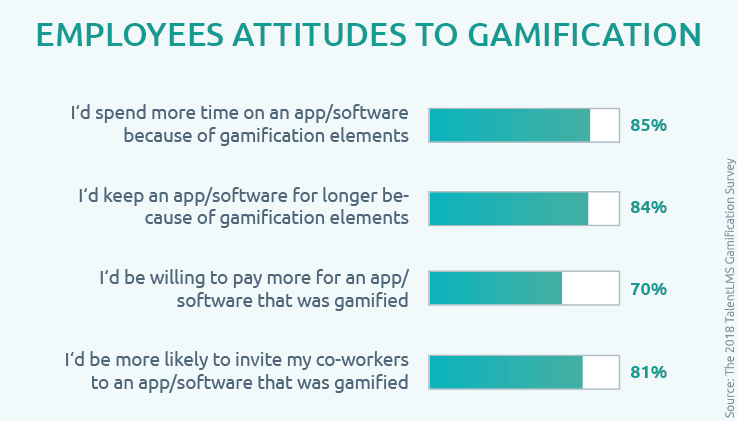 Elevates agent experience
Agents usually work on tickets they like handling the most. Thus, they miss out on the opportunity to improve their knowledge of new topics. Gamified applications let agents focus on developing specific skills.
Agents explore service desk areas they may not even know. For instance, quiz like elements create a scope for them to grow their skills and also elevate their product knowledge. Gamified training helps improve employee performance by 35–60% through quizzes and courses.
Once agents elevate their knowledge, they can publish solutions to common problems on the knowledge base. By doing so, they encourage peers to publish solutions as well and help customers to help themselves.
Makes supervisors' life easier
Supervisors can monitor the data received by gamified tools in real time. This includes achievement-driven feedback, which lets supervisors know whether agents are on the right track. This feedback motivates the agents and proves success in the form of analytics and reporting.
ThinkOwl is an AI-based helpdesk that lets agents enforce best practices to keep moving through tickets. It's Guided Mode is a feature that allows agents to use Play when working upon tickets. With Guided Mode on, agents automatically move through assigned tickets that don't take long to solve. This feature also eases lives for supervisors with its Guided Mode Console. Here Supervisors have an all-round view on the ticket assignments at a single spot. They can assign tickets to the agents and define the assignment order through queuing rules. ThinkOwl's embedded AI predicts agents who could perform best on particular tickets. Agents view and work upon ticket queue from the Intelligent Guided Mode Console first, as these are top of mind for the supervisor. In the Intelligent Guided Mode agents can bypass a particular ticket and state a reason for doing so. This reasoning gives supervisors insights about agents' training and development.
Ready to play?
Does Gamification work? We think it does. How can you gamify your helpdesk to boost your team's happiness and effectiveness?
Start small. Pick one element of gamification and apply it to one area of your business. See how it goes. Get your toes wet. As you can see success from gamification, you can expand to additional areas.
Be on trend. The gamification market is growing — and here to stay. It will open up great opportunities for any business in the future, including support businesses. Ready to play and win? Game on!