Blog Summary: A robust communication system always optimizes operational efficiencies in logistics throughout the movement of items from manufacturing units to the end-users, at every stage of the supply chain — this article unfolds how a unified helpdesk solution helps to improve the service quality and increase the productivity of support team to address the growing customer demands for faster delivery.
---

"We're experiencing increased demand and pressure being put on the supply chain to ensure that any goods reach the consumer as fast as possible," — says the director of operations with a logistics company.

Perhaps your views will also echo the same if you're in charge of similar responsibilities. As you know a lot happens in the logistics ecosystem. For instance:

There is a gamut of moving items. Trucks are on their way. Loading and unloading take place. Inventory is being stacked inside the warehouse. The orders are being shipped ensuring everything remains perfect during transit. And then the final delivery of the items to the consumers.

It's quite a task!

Managing the supply chain is one of the most challenging components of logistics companies. So, to establish a standard process, effective communication across teams is the key to success. And thus, you need a solution that aids in developing a streamlined framework.
According to a report from Harvard Business Review, the supply chain mechanism of yesteryears will perish in the next five years. The old systems will be replaced by contemporary, feature-rich, automated solutions for seamless operations.
Necessity of a Helpdesk Communication System in Logistics
Helpdesk communication system is a one-stop solution that integrates all methods of communication technologies and collaboration capabilities. In practice, this means that if you implement a similar solution, you can expect an inflow of omnichannel messages (chats, emails, web conferencing, IP telephony), mobility features, file management, data sharing, case management – everything you need to deliver an excellent customer service and that too on a single platform.

These tools are highly effective for the supply chain. In this context, let's discuss the importance of a robust communication system in logistics backed by AI Helpdesk.
1. Facilitate Team Collaboration and Boosts Productivity
With seamless communication comes effective collaboration. When members of a team share information more quickly across departments, the operational processes occur in an efficient manner.

From the ability to access all types of electronic messages in the same mailbox to spontaneously trigger required actions — unified tools for logistics simplify communication for service representatives, production, supply chain, and management.

Here, the role of a ticketing system is also pivotal to facilitate transparency in actions across departments. Essentially, the ticketing system aims to automate the process of tracking and controlling the support issues.





When an issue is found in any stage of the supply chain, the users can log into the software and generate a ticket. The ticket will have a unique number and will be routed to the concerned department for resolution. Some of the key benefits are:
Workers can share information quickly
Find answers to customer inquiries
Collaborate in real-time


Also Read: How to Turn Your Team Super-Productive with Helpdesk Software
2. Automate Processes for Efficient Management of Supply Chain
In a fast-paced world, your customer expects deliveries on time. Their expectations continue to rise where two days or even same-day shipping becomes the norm.

Demand can surpass supply if all departments of the supply chain are not in proper sync. It usually happens due to lack of a standardized approach. And this results in unfulfilled orders.

Meeting these demands requires instant reliable collaboration – from the manufacturing units to the warehouse to the point of delivery – to help streamline operations by minimizing the cost. Helpdesk communication tools give you the power to unify departmental collaboration where all workers can instantly communicate using the right tools.


Bonus Feature: A trending technology in logistics that is on high demand is Route Optimization backed by artificial intelligence. Route optimization is the process of finding the best route to ship and deliver a package from the manufacturing unit to the end recipient as quickly and cost-effectively as possible. This process is focused on minimizing the total shipping time.

3. Enable Meaningful Interactions and Transparency
Service representatives generally have vital information about customers' preferences, buyer persona, and purchasing history. They can play an active role in facilitating transparent communication among the stakeholders.

Right from placing order till its delivery and everything in between (which includes customer inquiry, complaints, getting support) are supported by a communication system that is backed by helpdesk technologies.

With the right solution, the interactions remain jitter-free. Customers have more options for reaching representatives via multi-channel interfaces – social media, email, chat, calls, web portals, etc. It also enables logistics companies to seamlessly operate with agents in different locations while still maintaining a standardized approach to serving customers.


Bonus Feature: Helpdesk systems often come with Calendar Integrations. It helps maintain the flow of client communication by ensuring that no one has to switch platforms to schedule a follow-up or send a reminder.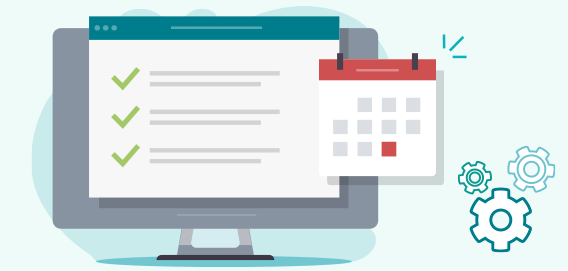 Now, the best part is – all the features and functionalities of the Helpdesk Communication System are powered by Artificial Intelligence (AI) and Machine Learning (ML).
Introducing AI and ML to Automate Workflows and Maintain Streamlined Communication in Logistics
With the advent of next-gen technologies, it's tough to ignore the Power of AI. The logistics industry can benefit a lot from these technologies.

As you know, logistics is an industry that relies on physical networks as well as digital networks. And the amount of data that is generated from the producer, the shippers, the warehouse, the physical assets in the transport, to the end customer is certainly a goldmine for such applications of machine learning. Thus, if enterprise brands can leverage these modern-day applications to optimize business processes, then that would be the best.

Simply put, AI-driven technologies bridge the gap between supply and demand by automating manual processes and enabling data-driven decisions. Watch video:


Also Read: 4 Ways AI is Revolutionizing the Logistics Industry

In the modern business world, logistics is becoming increasingly digitized, and robots do much of the work. However, connecting the people with the manufacturing and supply chain cycle is more important than ever. Thus, a unified Helpdesk Communication System is the key to strengthening these connections.

Logistics companies must look forward to implementing a unified technology to build a high-performing supply chain process and at the same time delight their customers at every touchpoint.

So, what're you waiting for? Feel free to contact the ThinkOwl team. We'd love to assist you with all the information you want.