What makes cloud-based helpdesk software ideal for businesses of all sizes? How does cloud-based helpdesk software provide businesses security, operational flexibility, and the most cost-effective approach to growing their customer experience (CX) capabilities? Let's find out in this article.
In everything a company does, customer needs must be at the forefront. It's about ensuring your clients have an outstanding experience across all touchpoints and relevant customer journeys.
The all-in-one solution for your customer service needs
To begin with, cloud-based helpdesk software improves your support center's efficiency and accuracy and helps your brand deliver an excellent customer experience. When you implement a cloud-based solution for a streamlined operation in your business ecosystem, it means you are determined to provide a reliable service to your customers. And the reliability stems from various factors. In this blog, we shall dive into that.
Legacy Software vs. Cloud-Based Solution
Let's draw a contrast between Legacy Software vs. Cloud-Based Solutions.
Cloud-based helpdesk has overtaken legacy-driven on-premise solutions. It's true that legacy systems are used by companies because they find the changeover of necessary software and hardware difficult to execute. Depending on legacy platforms can create many problems for customer support teams.
Legacy platforms are difficult to update with modern software and challenging to integrate with other apps and devices. The most significant risks of running a business with legacy software are the likelihood of running out of support and little to no scalability and flexibility. A thriving service center/ contact center has to prioritize employees and provide them with training, tools, and resources to do their job well. Choosing to let things be and ignoring critical system upgrades can be disastrous for the organization.


Also read: Legacy Software Foments Trouble in Customer Service; Consider Replacing to Avoid Complications


With cloud-based solutions, the scenario is a little different. It offers immense flexibility in terms of cost, maintenance, features, and scalability for businesses of any size. In fact, cloud applications are readily accessible from anywhere using only a web browser on any computer. Super-easy to deploy and scale!
A cloud-based solution always helps your business, providing 10 essential benefits:
1) Reliability, 2) Quick Deployment, 3) Cost Effectiveness, 4) Ease of Scalability and Robustness,
5) Optimized Security, 6) Business Agility, 7) Easy Accessibility, 8) Valuable Data Loss Prevention,
9) Remote Collaboration, 10) Paperless and Environment-Friendly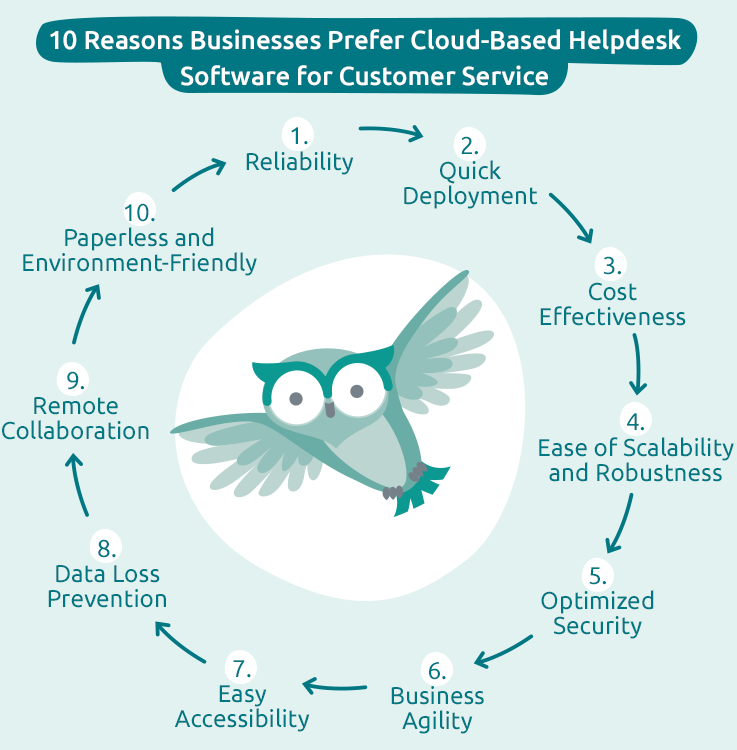 Cloud-based Helpdesk software is low-code
Low-code implies using very little or zero programming to develop business workflows.
Here, business process creators do not necessarily have to know how to code. Instead, they can automate any workflow using pre-configured visual elements and drag-and-drop features.
With low-code helpdesk software, business owners do not have to build a customer service application from scratch. Anybody who is not from a traditional software background can work on the helpdesk. Thus it becomes ideal for brands with customer-facing support teams and makes business process modeling and managing workflows easy.
Continually Updated
Cloud-based helpdesk software is continually updated and ever-ready for your support teams and clients because they receive continuous software updates. Timely updates ensure your helpdesk is constantly optimized and is powered by the latest innovations without disturbing existing operations. Thus ensuring you get the best results from tech for your customers and take your business to new heights.
You can witness a beautiful tech synergy in a helpdesk — where Automation and AI culminate to give you easy solutions to complex customer service issues.


Also read: Why Workflow Automation Is Imperative For Your Business
Cost-effective Solution for your Customer Service needs
Running a contact center is no easy task and requires significant financial investment. From hiring the right people to take care of your customers to select the perfect helpdesk software for your organization - your choices can affect your brand to build a strong reputation.
This dynamic is especially true in customer service, where many actions have to go right to deliver stellar service on time and within a budget — often involving variables that are out of everyone's control. If anything goes wrong, then your ability to deliver on schedule and resolve client issues can get severely impaired. It's imperative that your choices are cost-effective.
Cloud-based helpdesk software gives your customer service teams the ability to resolve complaints on schedule, improves your team's overall performance, etc. Choosing ordinary software might suffice your short-term needs, but if you want to be a long-term gainer, it's better to implement a proven advanced solution like ThinkOwl.
Optimized Security and Data Loss Prevention at your fingertips
Cloud-based helpdesk software is a valuable data repository. As such, it's imperative for brands to implement Data Loss Prevention (DLP) techniques to detect and prevent data breaches, exfiltration, or unwanted destruction of sensitive data.
Optimized security defends your company's data and prevents loss through leakage or attacks by malefic entities. You can protect Personally Identifiable Information (PII) and comply with international guidelines for safeguarding data.
ThinkOwl uses various security features to protect your data, such as customer-unique document encryption, facilitating the 256-bit Advanced Encryption Standard (AES-256) and Application Layer DDoS Protection, as well as hardware DDoS Protection.
Business Agility and Remote Collaboration made easy
In today's connected world, businesses that prioritize clients and try to be present for them irrespective of time zones and geographical boundaries are considered successful.
To become the people's choice, a brand requires agility. A continuous and systematic evolutionary adaptation to the latest technologies and entrepreneurial innovation becomes imperative.
The bottom line is you have to place the client at the center of your business model. Only then will you be able to acquire a competitive advantage for your brand.
Utilizing cloud-based helpdesk software to serve customers allows companies to be more responsive to change, hasten the time to market, and reduce costs without compromising on the quality of customer service. It eliminates the need for installing bulky on-premise systems and can be accessed from around the world on any computer connected to the Internet.
Cloud-based helpdesk makes geographical distances redundant and brings teams from across the world on a common ground, facilitating communication and productivity wherever they are to achieve a common goal of providing customers with top-quality service and support. Remote collaboration not only helps teams work together but also enables brands to provide round-the-clock service and support to customers who may be located in different time zones and in far-flung locales.


Also read: Connect Your Instagram Business Account with ThinkOwl to Source Customer Inquiries Instantly
Paperless and Environment-friendly
Wouldn't it be great to have an environment-friendly solution that uses the power of digitalization to make client servicing easy? How about eliminating the need for paper-based processes and relying on digitized documents instead?
When your brand uses cloud-based helpdesk software, your customers and agents do not have to fill out lengthy forms and then print documents on sheets of paper. Digitalization enables your brand to significantly reduce its carbon footprint.
With digitalization, you no longer have to invest in bulky file cabinets to store valuable data. Digital storage can be done in seconds, and retrieval involves a quick computer search. The reduction in employee work hours spent on menial tasks is significant.
That's not all. You benefit from intelligent, rapid provisioning of helpful resources for your agents and customers, real-time focus on your customer's journey, easy integration along with quick and easy addition of new features and functionality.
Conclusion
We love seeing your business grow. Whether you want to make more money, acquire new customers, or implement helpdesk software, ThinkOwl is here to help you achieve them.
ThinkOwl is cloud-based digital communication software powered by AI, which can be an appropriate choice if you have a customer-centric business. With this software, your service agents can work smarter, find accurate resolutions faster, and resolve more cases in less time.
You can define rules or trigger actions to automate complex service processes. You can even create, optimize, and manage workflows on the fly. Additionally, making data-driven decisions is easy with ThinkOwl's advanced Analytics, which helps you understand what is essential for your customers.
That's not all; cloud-based helpdesk software allows you to run your contact center your way. Cost certainty ensures peace of mind and a well-protected balance sheet.
The ThinkOwl Team is always there to help you stay ahead in your business. That's why, when it comes to providing customer support par excellence, ThinkOwl is an appropriate choice for you. Sign up for a 30-day free trial now.