The origin of customer experience (CX) as a differentiator can be traced to Japan during the 1950s. Before that, businesses and industries focussed on meeting production targets and restricted themselves to fulfilling the basic demands of people.
The Dawn Of Customer Experience
Manufacturers overlooked quality for quantity and earned handsome profits at the consumers' expense. Noteworthy that brands back then were synonymous with the quality of goods. That means when product quality deteriorated, or customer support and product maintenance were below par, brand loyalty too went down.
By the 1980s, businesses sought to determine how customers' set their expectations from manufacturers. What criteria decided whether or not an organization was a "good service provider".
The results weren't surprising. Consumers were unwilling to spend money on businesses that didn't listen to them and failed to meet their expectations. If a company didn't give them what they needed, it cost customers nothing to switch over to someone who did.
Decades later, the findings still hold true for modern marketers and service providers.
Tectonic Shift in Customer Service (CS) Landscape
The Covid-19 pandemic and subsequent tidal wave of digitization in 2020, permanently altered people's purchasing behavior. As brick and mortar stores teetered towards irrelevance, digital became synonymous with survival. Leaders huddled to rethink marketing strategies and redraw business plans that centered around these new-age customers and safeguarded their benefits over commercial gains.
Ready, Steady, Pivot!
From being revenue-driven to becoming customer-centric, 2021 was the year of the grand pivot for business leaders worldwide. Brands embraced change and committed themselves towards recreating the same levels of personalization and interactiveness that customers were accustomed to in physical stores before the pandemic struck.
Few businesses took the first step to connect with customers seamlessly across channels. They were intuitive to buyers' needs and transformed CS sure through personalization and engagement strategies.
Shunning age-old assumptions aside, marketers worldwide realized the competitive advantage of offering a great customer experience and the value proposition that comes with it. To become customer-centric, you should have a finger on the consumer's pulse, and be able to think like them. Customer Experience (CX) was and will continue to be the key criteria consumers use to select a product or service, over and above pricing and features.

Also Read: ThinkOwl's AI Wizard: Intelligent Mechanism to Simplify Customer Case Management
Ahoy 2022!
Understanding your customers' experience is vital to adjust and refine your offer and ensure it's a compelling one so that you gain a competitive edge. With smarter consumers comes a higher demand for truly exceptional experiences. However, providing excellent CX isn't the end goal. For 2022 and beyond, there's a lot more that needs to be done.
Today, consumers demand a friction-free omnichannel purchasing experience and lean towards brands with an impeccable record of product and service delivery. Your customers want to know how you can help them – answer a question, solve a problem, fulfill a requirement, make things easier – and then ultimately want you to keep that promise.
In the experience economy, personalization is crucial when it comes to delivering great customer experiences, but you need to make sure that works. Improving customer engagement is a great way to ensure your CX strategy is a success.
Customer Engagement (CE) is one among several important milestones companies come across on their journey towards offering the best experience for their customers.
The formula is simple: Without engagement in your marketing and support strategies, all plans of exceptional CX are doomed.
Here's a simplified explanation of both terms:
Customer Experience (CX): CX is consumers' perception of an organization that's based on their interactions and engagement across all brand touchpoints, people, and technology during their buying journey. To further simplify, how a business engages with its customers at every meeting point throughout their buying journey – from product discovery to marketing, and from sales to customer service until retention – is customer experience (CX).
Customer Engagement (CE): It is an (often ongoing) interaction between an external consumer and an organization through various online or offline channels. It influences the emotional connection between buyers and sellers, as well as impacts overall brand value.
CE and CX are two different terms, convey different meanings, and although measured with different metrics, have innate similarities. Nevertheless, it's imperative both CE and CX feature prominently in your marketing and customer support strategies if your business has to succeed.

Also Read: Proven Methods To Empower Customer Support Teams
The CX Renaissance
2022 will present challenges to organizations unlike what they've faced before. Attracting customers, engaging and retaining them, and staying ahead of the competition remain fundamental objectives. How you attain these objectives becomes your key differentiator.
Collaboration between businesses and consumers on a solid foundation of technology has ushered in a period of glorious transformation for customer service (CS) and elevated the value of customer experience (CX). You are a part of this global renaissance and together we can usher change that will ensure our customers get nothing but the best.
Innovation in CX can be a challenge, however with the right software – that enables better user and customer relationships, tracks performance, manages customers throughout their brand journey – not only innovating but optimizing CX is totally within your reach.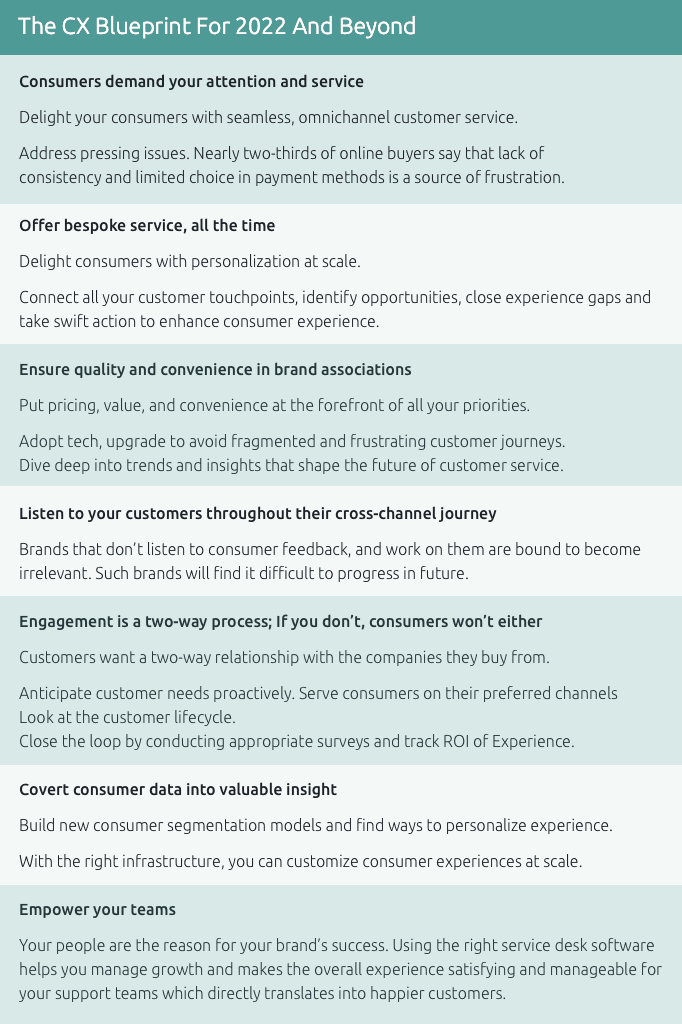 Also Read: Why Workflow Automation Is Imperative For Your Business
Know What Matters to Consumers - To Create Successful CX Strategies
Service will remain the top criteria for customers choosing one company over another. Whether it's a one-on-one interaction with an agent in a contact center or personal interaction with a product demonstrator in-store, customers' service experience is important.
Speed, convenience, knowledgeable help, and friendly service across multiple channels are essential elements that provide a positive brand experience and remain in demand.
Optimize Omnichannel Messaging and Customer Support
Customers worldwide want the same thing: A seamless, frictionless digital experience from product discovery and acquisition, through purchase, to retention. Omnichannel support before the pandemic was a wow factor, but now it's fast becoming a non-negotiable requirement for customers worldwide.
Customers preferred communication channels include phone, email, social media, live chat, web, or messaging platforms like Whatsapp. They want you to know their channel preference in advance through brand journey maps and take the onus of providing a hassle-free omnichannel experience.
Forecast for 2022 and Beyond: Offer Stellar CS; With A Human Touch
Positive Interactions Are Good For Your Business
Customers are likely to spend more on your brand provided they are offered quality support. They are more likely to recommend or endorse a brand on social media, or through word of mouth if they experience a positive interaction with your brand touchpoints and support teams. When your teams provide high-quality support (that's as good as your sales) across multiple channels consistently to your customers, you get rewarded with their loyalty.
Empower Your Agents
Empower your teams to deliver a service experience that's matchless. Train them on customer support etiquette, product knowledge, organizational principles, and support policies. They should know how to seek feedback and measure customer satisfaction. Learn to be accountable for your actions. Accountability can create customer confidence, and confidence can lead customers to brand loyalty.
Listen To Your Customers
Understanding your customers is key to long-term growth and success. Listening will help you create effective strategies to win their trust, engage them, and improve their overall experience. Listening to your customers improves the productivity of your service teams. A majority of them feel disillusioned and ignored after they share their opinions — but don't see any corrective action from the organization's side. Dejected, these customers are the first ones to churn.
Practice Empathy
Customers like being listened to and appreciate your service teams' efforts if they feel their opinions matter to you. Lending them a patient ear and being empathic puts them in a comfort zone with your service teams. When you humanize support interactions and practice empathy with your customers, it makes them feel special and helps you understand their pain points better.
Practice Transparency
Great CS means doing whatever it takes to build real meaningful relationships with customers. This means being truthful in your interactions and providing good customer support. Remember, good customer support is the basis for good customer service. Good service likewise is the base for great customer expectations.
For instance, in the face of supply chain issues and labor shortages, businesses are struggling to close information gaps, keep up with the necessary infrastructure and manpower to respond to customer queries about delays in product delivery and various service-related bottlenecks. There's a clear gap between what customers expect, and what companies actually deliver. When expectations are not fulfilled, customers feel cheated and move on. Closing the gap at the earliest with truthful answers and transparent workflows is always a good idea.

Also Read: 10 Salient Features of a Premium Helpdesk Software
Uncomplicate Business Process
Automation To The Rescue
Rapid digitization and proliferation of technology have created a glut within customer service teams. The focus isn't on the volume of experiences, but on the quality of attention given to customers. Businesses want to provide a wholesome and deep experience to customers and are looking for tech that strengthens engagement, and helps with personalization to create individually-tailored
customer journeys.
Automation helps you meet your business goals. It is extensively used to lower cost, boost performance, or become more productive across industries. Automation reduces human effort, uncomplicates business processes, makes workflows more efficient and agile, and helps in enhancing the overall customer service.
Smart helpdesk software aids service teams with case management and ticket distribution while managing workflows intelligently. From the outside though, customers aren't privy to any detail, and their interactions are limited to agents answering queries, resolving tickets, or troubleshooting technical issues.
Future-proof your martech stacks
In the future, marketers would do well to choose software that helps with business functions as well as enriches customers' experiences. From digital commerce, the focus has shifted on technologies that provide complete digital experiences.
Social Commerce (using social media platforms for business), Augmented Reality Commerce (using 3D mapping to preview the look and feel of a product), Livestream Shopping (blend of a live stream and social commerce), Conversational Commerce (using messaging platforms for selling) are all in vogue.
Whatever be the technology, the execution is fairly simple. To ensure tech complements your business, you must be prepared to handle incoming traffic, create a seamless customer experience, pay attention to detail, ramp up customer service and support to ensure you deliver a matchless experience your customers will love.
Sign up for a 30-day free trial to discover advanced tools by ThinkOwl that ensures awesome CX for your customers.