Do you want to be competitor-focused or customer-focused?
To be the leader in the service industry, you must make a choice.

Being customer-focused always gives an edge over competitors, and you would be more pioneering.

At times, you can certainly take inspiration from competitors. However, focusing on consumer-needs rather than what your competitors are doing will result in more conversions and more delighted customers. By adopting this approach, you can identify and meet those hidden consumer expectations, even if no one else in the industry is noticing.

That is why conducting Surveys are essential.

Customer Satisfaction Survey is a tool that helps businesses gather feedback from clients, drive improvements across the customer journey, and assists in measuring their level of satisfaction.

The benefits of Surveys are galore:
It is an effective tool to judge customer loyalty
It enables businesses to gauge buyer persona
Customers get opportunities to express their opinions
Helps companies improve and optimize support process
Helps to gather data at specific touchpoints
Provides insight into different customer segments
Encourages to build new product features
Increases retention rate, customer lifetime value and reduces churn


To facilitate a five-star customer experience (CX) program for various business organizations, ThinkOwl introduced a new feature — CSAT Survey. The feedback collected from surveys reflects specific pain points and assists in constantly recreating good customer experiences.


Also Read: ThinkOwl's AI Wizard: Intelligent Mechanism to Simplify Customer Case Management
Creating a Survey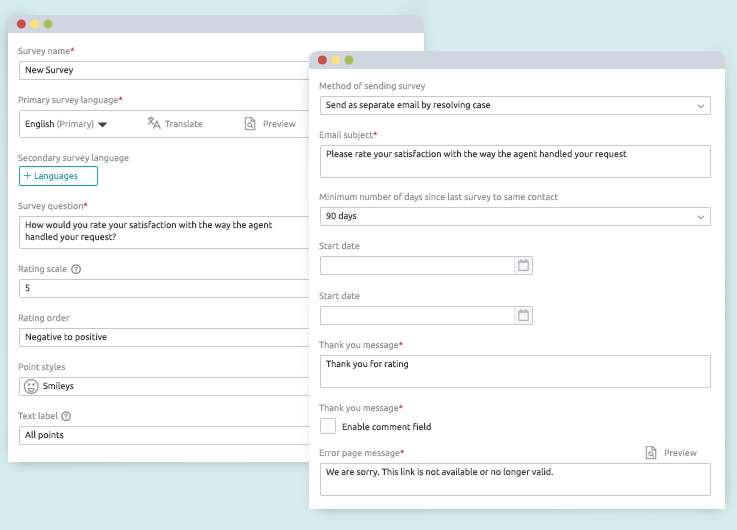 Within ThinkOwl Helpdesk Software, you can initiate the process of creating a survey. Let's explore how to do it.

First thing first - Give a Name to the Survey. It is the name by which you can internally recognize the contents of a survey form. Do not worry; customers do not see this name.

ThinkOwl gives the option to draft a survey in multiple languages. Set a primary survey language and then (if required) take the help of the translation tool to translate it to the secondary language that your customers understand.

Although setting up surveys is simple, still, consider the larger picture before getting started related to the type of questions you ask. It will influence what you want to achieve from the survey. Based on the excepted objectives, set the Survey Question. This question is displayed right at the top when a customer opens the survey form. This is the central question in reply to which you are asking for customers' feedback.

Once the questions are framed, configure some other related options. These are:

Rating Scale - Choose any one of the given rating scales — 2, 3, 5, 7, or 10-point. These rating scales allow you to quantify subjective customer experiences and help track customer experience.

Rating Order – Choose between two rating orders: Negative to Positive OR Positive to Negative. When using the rating scale, a good practice is always to keep Negative to Positive.

Point Style – Depict how you want to display the ratings — be it Numbers, Smileys, Stars, or None.

Text Label – Corresponding to the chosen rating scale, specify the points at which text labels should be displayed. For example, if you're utilizing a 5-point rating scale with labels for All Points, the survey scale will look like this:

Text Level Values – Set the text level values, such as, Satisfied, Dissatisfied, or Completely Satisfied. You can even change the default values to the text that matches your company's voice or tone.

Select the method of sending the survey (for instance Email), and decide how often you want to send a survey to the same customer, along with the time duration for the survey to be active.

Comment Box – At the end of the survey form, there is an option to enable a Comment Box. This comment box comes into play after customers select a value on the rating scale. It allows them to type in additional details. In a way, this is helpful to dig more into the CX arena.

Setting Rules - Type the message that you want to show as an error message which will be displayed if a customer tries to reply to the same survey a second time.

Also Read: How ThinkOwl Delivers a Superior Customer Experience with Guided Mode
Launching the Survey
After fulfilling all the parameters of setting up a survey, it is time for the launch.

You can send the survey as a separate email after resolving the case. Also, you can enable the option to automatically activate a survey when customer cases are marked resolved in the ThinkOwl helpdesk.

The best part - ThinkOwl provides the option to View, Edit, and Delete surveys. Should you wish to modify any survey attributes or make any changes, you can definitely do so. The idea is to give an option to make necessary modifications and cross-check all parameters prior to launching the survey.
Survey Results and Reports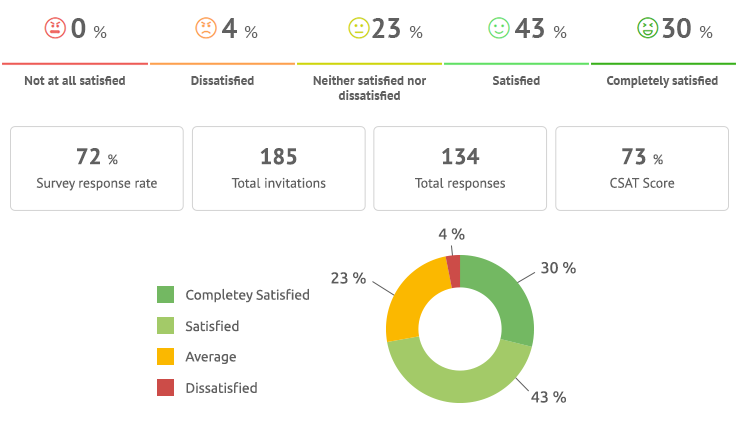 Customer satisfaction leads to revenue and repeat-purchases. Thus, measuring customer satisfaction is quintessential for a business to flourish.

Analyzing the survey report gives a detailed picture of the main areas for improvement. As a result, companies can strengthen their service standards. In addition, satisfaction measurement provides ideas for improving customer relationship efficiency which means if customer satisfaction rises, the organization is clearly on the right track.

Once the survey is set and launched through ThinkOwl Helpdesk, it showcases the results/reports.

The Survey Result page reflects the summary of the customer satisfaction metrics for each survey form; and also it shows the Feedback, which records a list of customer names, the case ID of the resolved case, and customer comments.

The Summary Section, shows the following details:
Percentage of customer rating at each point of the rating scale
Percentage of response for the selected survey
Number of times the survey has been sent out
Responses received against the surveys
CSAT – customer satisfaction score based on the customer feedback to the selected survey
NPS – For surveys that use a 10-point rating scale, an additional score is displayed, i.e., the net promoter score, which helps gauge customer loyalty.

The customer Feedback section unfolds a list of customers and their survey-related details:
All users are listed with their resolved case ID, their survey rating, and comments
An overall satisfaction score is displayed next to their names. In the case view, the resolved case also contains the customer survey rating and comments
To narrow down customer feedback, you can take the help of the search box to search for a specific feedback comment with filters like Ratings, Date, Newest first, Language, etc.
Survey Reports help you to Analyze, Identify, Act. In a way, these are decision-making tools where management teams can prioritize their actions based on survey results and satisfaction indicators.

Also Read: AI Helpdesk Software is The Backbone of Service Companies. Know Why!

In today's demanding world, buyers expect good experiences at every step of their journey with your business. Even the small events that might go unnoticed by the service team can make a huge difference in how customers think about your brand. So, it is critical to ensure that the customer satisfaction endeavors are topmost.

ThinkOwl's CSAT Survey feature enables companies to enhance engagement and continuously improve service quality. To explore more on this feature, feel free to Sign Up.