Customer Experience (CX) is the mainstay of all businesses. Businesses and customers thrive in a good CX environment. If you want to know how then you have come to the right place. So let's explore what good CX is and what are the requisite tools to improve CX.
Customers expect stellar brand experiences, but businesses are not meeting the mark. Research reveals the gap between such expectations and business efforts, which brings up the question of when was the last time you took stock of your customers and their overall experience after they had associated with your brand.
The ThinkOwl CX Playbook for Everyone offers you tips to help your business bridge this CX divide and delight customers.
What constitutes good Customer Experience (CX)?
To deliver a memorable experience to your clients, it's critical to know the latest trends influencing customer service and customer experience. Besides monitoring trends, you should also understand customer sentiments, anticipate their needs, fulfill their wishes, and know the factors that can help you stay ahead of the competition.
For most brands, the contact center is the hub of the customer experience and deserves attention and resources. Whenever your customers call you with a problem, it is essential to listen, address, and solve their issues. Simultaneously, proactive measures help prevent other customers from experiencing the same issue.
Diving deep into customer behavior helps you bring changes. So let's create a checklist of all the important areas you need to focus on to grow your organization, endear yourself to customers, and ace customer satisfaction.
Start your CX transformation journey with Empathy and Personalization
You can get started on your quest to enhance your customer experience when you practice empathy and personalize what you offer to your clients. Empathic CX professionals ensure the customer's voice reaches across the organization, and they become champions of customer advocacy. Empathy drives various CX-building activities and builds relationships, drives customer advocacy, acts as a catalyst of change, drives innovation and product excellence, and aids in data collection and analytics.
Personalization has come a long way from being a "good to have" quality to an absolute necessity for every organization. Personalization acts as a catalyst and drives engagement and growth for brands.
Contrary to popular belief that customers don't like to be bothered with offers and promotions, most customers love it when their favorite brands communicate with them – as long as it's relevant, thus personalized.
A 2022 Forbes study tells us that eight out of ten customers do not have a problem receiving personalized marketing communication from brands. A solid personalization strategy connects brands to their target audiences and paves the way toward high levels of customer satisfaction. You can find a detailed discussion on this topic in our CX Playbook. Feel free to check it out.
Prioritize customer interaction across multiple channels
Brands that get their CX right often see better ROI than brands that do not prioritize CX. A Forbes study tells us that Bad CX can cost companies up to seven percent of their revenue.
Customers want enterprises to keep a record of their purchases and service requests. They demand recognition by businesses – not just before or during new purchases, but at all times across all channels.
To offer your customers a seamless, frictionless digital experience. Your strategy should include all support interactions from various communication channels like phone, social media, messaging, email, chat, etc., in one place. The key to customer success lies in managing multiple communication and service channels, besides consistently delivering good quality service and meaningful resolutions across channels and touchpoints.
Strengthen your eCommerce strategy
eCommerce allows brands to perform and deliver even when physical stores are closed. Buyers find online shopping very empowering as it prioritizes their convenience. Having a dedicated eCommerce strategy ready during the pandemic allowed businesses to pivot from physical stores to digital shopping destinations and thus stay relevant to customers.
Global eCommerce sales are expected to touch 8.1 trillion dollars by 2026! It's high time online retailers make this opportunity count by taking necessary measures. In the ThinkOwl CX playbook for everyone, you'll come across ideas to accelerate your eCommerce business, valuable tips, hot trends, fun facts, and a detailed guide to elevating CX.
A comprehensive knowledge portal improves self-service and elevates CX
Did you know that a self-service portal can come in handy when your customers are looking to solve a problem or want to gain additional information about what your brand has to offer?
Access to correct information at the appropriate time can be invaluable for anyone trying to solve a problem, including customers, support teams, and contact center agents.
Self-service systems in an organization's customer support strategy reduce pressure on your customers and agents. It helps cut down the time spent looking for solutions and ensures clients get served faster. An organization with a robust knowledge portal encourages self-service and ensures shorter turnaround times for customer complaints.
Here are six reasons why you should download the CX Playbook: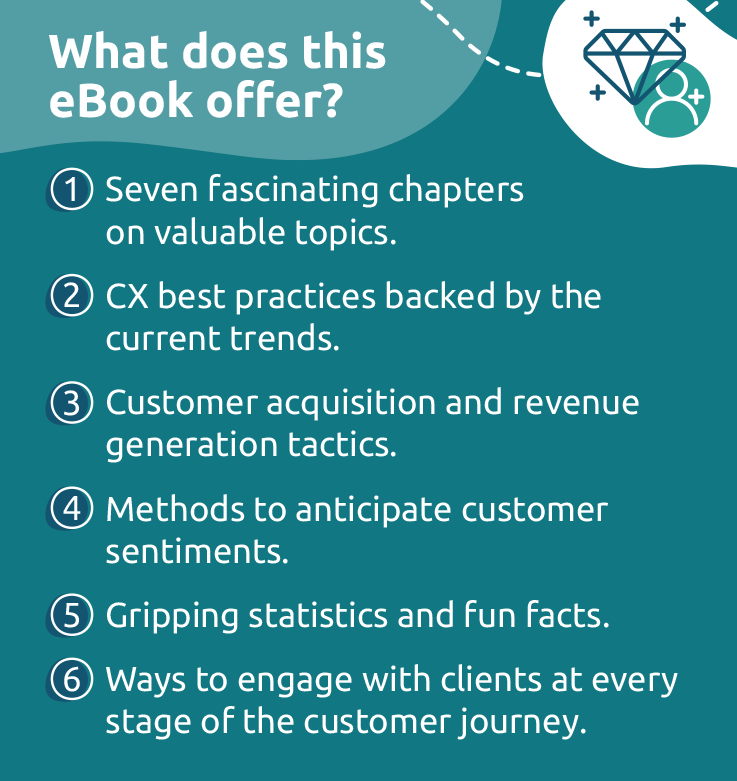 Acing customer satisfaction surveys and truly delighting clients requires business owners to visualize the customer journey, evaluate their needs, anticipate challenges, and have a clear picture of how they can ensure customer success.
Your brand's support channels shouldn't be divided into silos. Support agents, even those
using the email and chat helpdesk, should be able to easily access customer records and a list of their interactions across all touchpoints. Unified communication systems enable support teams to identify problems faster and provide accurate resolutions.
Additionally, AI-powered customer helpdesk software can help you stay connected to your customers across multiple channels. It is designed to boost agent productivity.
Download your CX playbook to know how you can win customers for life.