Key points:
With the worldwide democratization of internet access, connected consumers are gradually turning into the generation of digital immediacy. This trend is changing consumer behavior.
Enterprises are adapting, evolving and trying to win over today's "need for speed" generation of consumers.
Businesses use different tools to maximize efficiency on their side and minimize immediacy from the customers' side to achieve exceptional customer experience(CX).
Digital immediacy — the tech side of impatience
In today's on-demand world, digital connectivity and democratization of internet access have allowed more consumers to get connected worldwide. Moreover, it has been one of the greatest innovations, putting the globe at the fingertips of the connected consumers. This connectivity gave consumers the power to access anything at any point in time, which elevated their knowledge about things they are interested in and eased their convenience to another level. Digital connectivity brought a drastic shift in how these people live, work, shop and set a new expectation bar for the enterprise-consumer relationship. Customers expect simplicity, speed and automation in everything they do and just being "nice" is no longer enough today. Consumers now expect companies to communicate in a way that works best for them. They want to be served well immediately, whenever they want, at whatever touch point they choose, whether by phone, email, social networks or chat apps. Customers want brands to create experiences tweaked to their ever-evolving needs. The need to be connected and the demand for immediacy are two factors that condition the behavior of the consumer. This era of digital impatience sets enterprises under pressure to create an even more remarkable customer experience(CX). Therefore, they are making increased use of efficient applications or tools that help them organize workflows and avoid waiting situations.
"The need to be connected and the demand for immediacy are two factors that condition the behavior of the consumer."
It doesn't matter in what business you are or which industry vertical you belong to, you face an impatient customer at some point in your business journey. Have you ever encountered customers who want the right information but do not want to wait? Even if your softness appeases them momentarily, it doesn't last for long. They tend to lose their patience eventually. At that point, all "softness" is lost on them. Are you struggling to build a suitable customer service platform for your company to calm down all those customers who are unwilling to wait? If yes, ThinkOwl is something you can try.

ThinkOwl is a great customer service software powered by artificial intelligence(AI). The best part is, it self-learns everything to manage the workflows at the service desk and lets businesses succeed over consumer impatience. ThinkOwl is an easy-to-master AI tool that lets your team create its client-friendly and personalized responses. When customers get quick and easy-to-understand messages that carry the context of their own situation, they become completely delighted and turn into brand evangelists. Here's how:
ThinkOwl starter tricks to win over impatient customers
1. Variety of touchpoints for customers — ThinkOwl serves on all channels at one desk
The idea of getting an instant reaction to one's problems at the push of a button is widespread among consumers today. With this belief comes customer expectation, which puts pressure on enterprises to deliver more, faster. Nowadays it's the customer who decides through which channel they want to communicate with the service agents. That's how the choice of channels came into picture. Most customers likely call or text service agents for help when a service goes down, rather than using a self-service tool. The customers want a person to vent out their concerns, they can't release their anger with a machine. As a result, the calls to your helpdesk increases. This further increases the load on your agents to resolve customer queries or suggest customers the most preferred method to activate the services in time. Sometimes, due to high volumes of calls, texts, chats and emails coming from multiple channels, a customer care agent may miss a call, and the issue remains unresolved. It becomes difficult for agents to track those unsettled incidents and tickets to document their solutions for future use. On the other hand, an unanswered query makes the customers scowl.
How do you handle your customers? Do you struggle to shift between a number of different channels at the helpdesk? Well, when managing customers from a variety of touchpoints and responding to all of them gets quite tedious, ThinkOwl can be savior for you. ThinkOwl serves on all the channels at a single helpdesk, so you don't have to keep juggling channels to respond to your customers on time. It lets you stay connected with all the channels and manage all customer interactions from a variety of channels, such as email, live chat, social media and routes them all into the team Inbox. So you get everything in one place and never miss a customer conversation.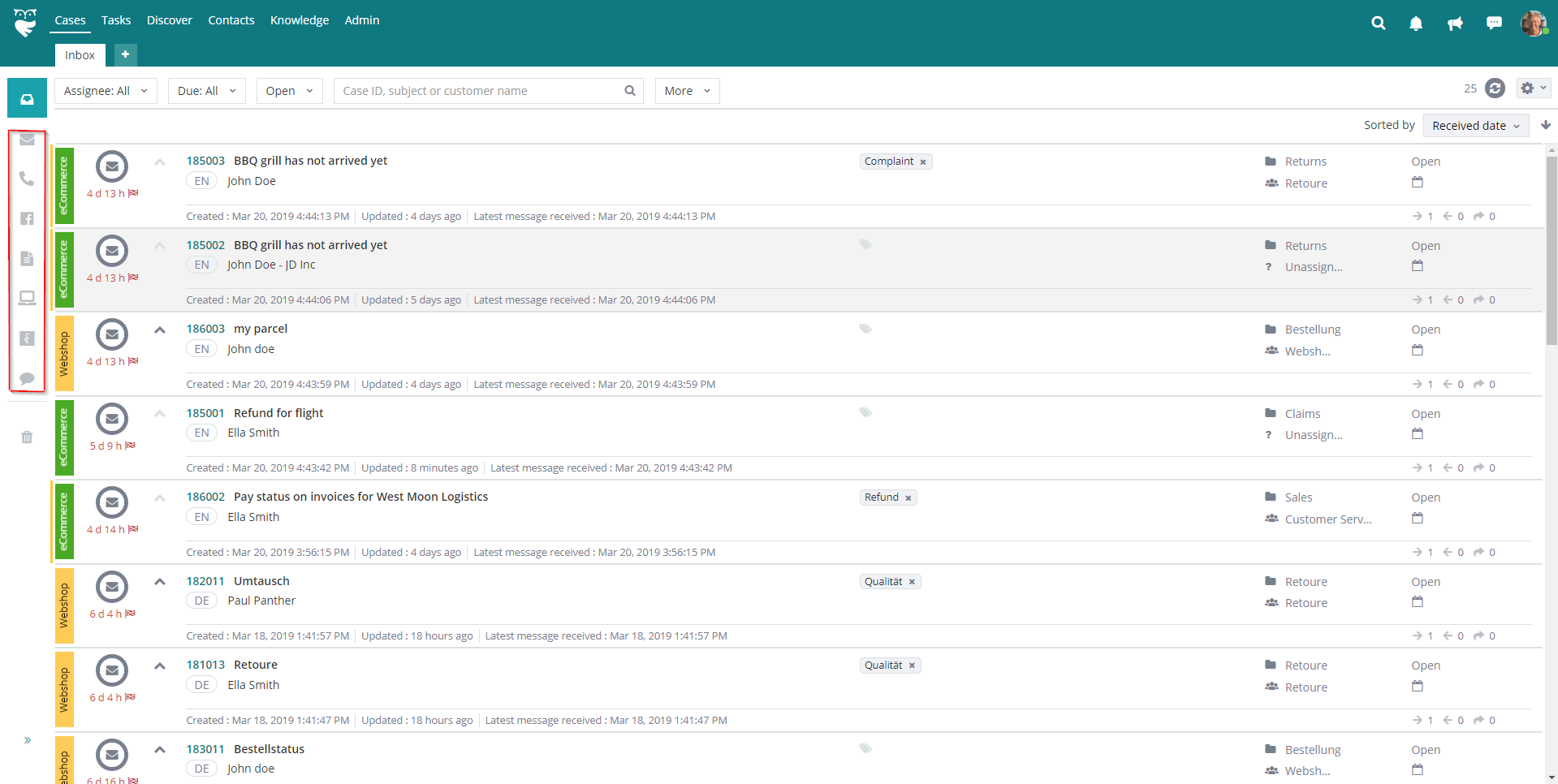 2. A smart customer service system — ThinkOwl always has 360° view on agents' relays
One of the best ways to turn an impatient customer into a happy one is by delivering the right piece of information in no time. After all, we are the "need for speed" generation, we want everything "right here, right now." The service agents need to have all the information in their hands to make it available to the customers immediately. With ThinkOwl, your service staff doesn't need to do manual data entries or validations, as ThinkOwl gets more intelligent with every move. Its self-learning algorithms train themselves by simply "learning by doing," which helps the system self-optimize with every task performed on the desk. ThinkOwl keeps your knowledge base updated with the latest how-tos, workarounds and solutions, which helps customers find answers themselves quicker. Also, the service workers remain updated from time to time and are able to make informed decisions quickly. At a help desk, many agents work at the same time, and ample of incoming cases keep dropping into an agent's Inbox. ThinkOwl keeps a 360° view over all the incoming cases and knows that a similar case was handled by a particular agent in the past. It tosses complex cases to the agent who previously aced a similar problem and who has the skill to resolve the case more efficiently. Thus, assigning the right case to the right agent at just the right time helps your business resolve the load of cases quickly and reduces customer response time. ThinkOwl can speed up case handling by 70%.
3. Simplicity for customers — ThinkOwl gives one-click answers to repetitive inquiries
There will be many changes in terms of the tasks, resources and deadlines, and you need to be decisive at each stage of change. Also, out of the millions of queries coming up at the helpdesk, some of them may be repetitive or may address a similar issue. Not to worry! You'll get assistance from ThinkOwl's artificial intelligence to present one-click answers to repetitive customer inquiries. ThinkOwl evolves with time. Being powered by AI, ThinkOwl will learn autonomously and give you timely expert suggestions. It offers the agents benefits such as self-tracking the status of any requests or tickets, see pending approvals, announcements, etc. These suggestions will act as a helping hand in making the right decisions at the right time. With better knowledge from the help desk comes greater value to your end users. ThinkOwl allows timely communication, regularly updates users on their ticket and creates a great user experience. ThinkOwl fetches useful answers for customers just in a few taps and swipes on their devices.
The help desk software distinguishes a repetitive standard case from the challenging individual case in customer service. The embedded AI workflows let ThinkOwl automate almost everything and ease the tasks of the agents, increasing the agent or team productivity to a higher level. ThinkOwl keeps the agents ever ready by supporting them with minute-to-minute details of what their customers want. Agents don't have to waste time to get relevant real-time information for their customers, ThinkOwl does it all through its expert suggestions. ThinkOwl remembers what worked effectively last time, provides predictive insights and suggests the best next move.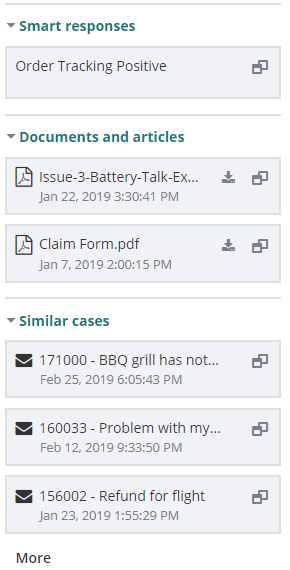 4. The right strategy for happy customers — ThinkOwl gets more out of your workforce
With having intelligent systems at all the workplaces today, it would be naive to think that these would replace the company staff. More importantly, you get more out of your knowledge workers, who can add the human touch your customers desire. There are times when bots can't handle a customer the way humans can.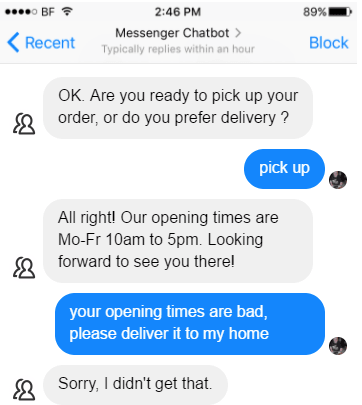 It makes more sense to give a boost to your workforce with intelligent systems that complement and enhance your team's intelligence. This human-machine collaboration delivers better results and delights customers. ThinkOwl keeps your knowledge base and knowledge workers updated. The system has timely conversations to update users regularly on the ticket. ThinkOwl helps you to get more out of your employees and creates a great user experience.
With all these starter tricks, ThinkOwl empowers you continually to deliver superhuman greatness with AI-based automation at your service desk. All thanks to its deep learning capabilities, which simplify customer service and turn impatient customers into happy ones.