Key points:
In the wake of COVID-19, many organizations are not adequately prepared to react to disruptive changes in their service processes.
Businesses of all sizes, types, and geographies are adopting new ways of working.
A smooth switch is still possible, thanks to the modern workplace reality and cloud-based customer service solutions.
Lately, a lot of enterprises have shifted to work from the home model. Some of them are also planning to change to permanent remote work post-COVID-19.
When life throws you a pandemic, the adage of making lemonade out of life's lemons doesn't work.
As COVID-19 runs its course, enterprises around the world are facing a similar situation. Many organizations do not have the right tools to handle sudden changes in their service processes. Businesses of all sizes, types, and geographies are adopting new ways of working. And all the while, customer service centers have been crucial as customers rely on support teams to resolve their concerns. They face cancellations on orders, delays on shipments, and difficulties in using new channels of communication.
The bigger question is: are the support teams ready to cope up with this rapid change?
As a support team, even if you are not fully geared, it's time to get started. How?
By shifting gears to the new workplace reality and digital workplace techniques.
Read on.
The new workplace reality
1. Adopt cloud-based applications and storage
The Coronavirus outbreak has turned businesses upside down. Working remotely is now the new reality, and possibly the permanent way of work, post COVID-19. Thus, organizations are moving away from working on conventional versions of data and documents. Here, cloud-based customer service solutions provide a smooth transition. With active secure cloud operations, these work best for remote workers. All you need is a web browser to get rolling.
Adapting to cloud-based applications and storage can support businesses with almost everything, from document creation and application development to task management, workflow automation, and more. A recent report shows that, lately, customers prefer support through call over other channels for quick and elaborate communication. In such a situation as well, cloud-based telephony can help support team handle high call volumes.
2. Optimize work from home model
Support agents in the closed environment of call centers are now obviously vulnerable to the pandemic. This creates a new challenge for businesses, i.e., keeping their employees safe while ensuring that operations run smoothly. Both ways, a smooth transition is possible by adopting elastic digital workplace techniques like virtual work environments, seamless networking, flexible collaboration, etc.
Here's how: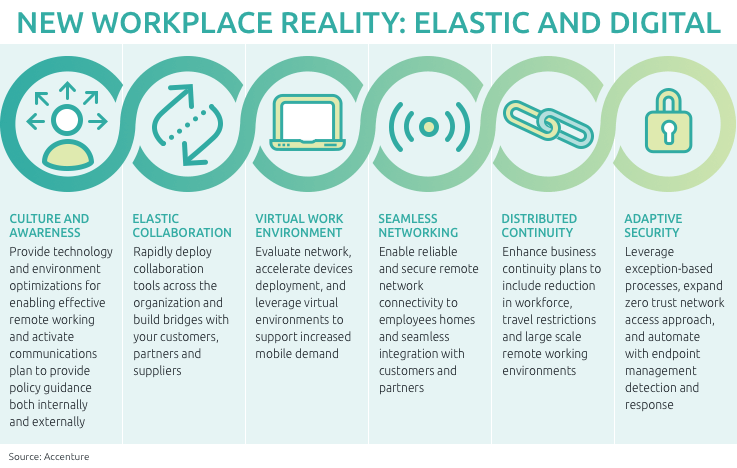 Organizations considering permanent work from home operations should develop an agile digital workplace implementation plan, focusing on the above key dimensions.
3. Improve Helpdesk Management
Crisis or no crisis, enhancing helpdesk management is vital in today's on-demand era.
This involves working on support data (analytics), automating support workflows, and providing self-service. This pandemic made many organizations realize that automating manual or repetitive support tasks is the need of the hour. Many enterprises that were inclined towards manual processes are shifting gears to automation to meet high customer demands. And the ones who were already running on automated workflows get lucky. A recent report highlights that teams which already use automation tools are more likely to meet their monthly deliverables, despite the disruptions.
Support teams who use automation are 41% more likely to say they will hit their goals this month.
Another aspect is that no matter how good your support team is, some customers don't want to get into talking. They want to get to the right direction. Here's where your self-service content helps.
This lets you deliver excellent customer service at a large scale and saves time, manpower, and cost.
Don't believe it? Let's look at the figures.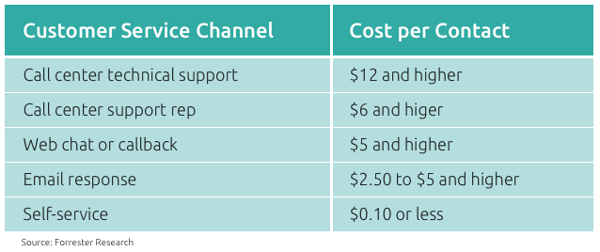 Some cloud-based helpdesks, like ThinkOwl, have both workflow automation and self-service portal, giving their users a power-packed combination to deliver seamless support even in these challenging times. The software also comes with a free version for small businesses.
4. Go for Omnichannel Helpdesk
The crisis has been affecting the emotional state of customers. The major reason for this is: they face cancellations on orders and delays on shipments.
Lately, customers wish to talk to someone when they are looking for answers to their complex queries. This has lead to spiking call volumes and social ticketing. A recent report from multinational professional services company, Accenture shows that 57% of customers prefer call support over other channels for flexible and fast communication.
Customers may reach out to you through any channel they are familiar with. Here's when the omnichannel solution helps. All possible communication channels work in integration in omnichannel support, and all the information you'll ever need flows on one screen.
Thus, the businesses having omnichannel customer service software with a phone channel, cloud-based telephony, or social ticketing can easily handle rising customer demands.
5. Use advanced analytics and reporting tools
Data-driven decisions always make customer experiences better. While support teams work remotely, it's even more important to capture and analyze customer and support team's data.
Thus, an easy-to-use analytics and reporting tool to gain insights on your helpdesk performance are necessary. Using these insights, you can improve your support processes and increase customer satisfaction (CSAT). Some of the key performance metrics (KPIs) that give an overview of helpdesk performance include average response time, resolution time, and SLA indicators.
Data analytics helps encounter challenges businesses face during the crisis.
According to a recent survey:
43 % of respondents said analytics is at the front of their activities, helping their organizations make major decisions in response to the COVID-19 crisis.
6. Check the risk of a security breach
The virtual work environment is on the rise. Employees working at remote locations are providing seamless access to corporate applications and cloud assets. At the same time, employers want to make sure that their business isn't at the risk of a security breach. Many instances of data breach took place during COVID-19 and remote work situations.
For example, recently, Zoom was in the news due to privacy issues. While video conference is one of the most common ways to bridge the communication gap between colleagues, reports reveal that the login details of over five lacs Zoom users have been found on the dark web. As everything gets on the cloud, such occurrences have led organizations to boost their data security. Such challenges are overcome by using customer service solutions with secure cloud operations.
What's next — AI-powered support
The current situation is accelerating future trends. Scaling up AI-powered support is the need of the hour. For instance, agents agility, real-time workforce management, channel choice, AI virtual agents, and AI-based customer service tools are some of the essential features you can implement. While most of the experts don't have a clue how long it will take to contain the virus, the Gartner CFO survey reveals that 74% intend to shift some employees (who were forced to work from home) to remote work permanently. Thus, it's evident that industry leaders should plan for short-term and long-term operational changes now.
Meanwhile, all you need to do is: ensure that your support team is constantly interacting and adding value for customers. Only the right tool can help your business achieve this balance.